FAQ– ADCLEAN Products
What is ADCLEAN?
ADCLEAN products are hydroalcoholic gel and liquid solutions intended for hand sanitization and solid surface disinfection.
How does one effectively sanitize their hands with ADCLEAN?
Adclean in liquid sprayable form: Vaporize ADCLEAN twice into palms, rub the back of each hand, between fingers, thumbs, fingertips, and wrists for at least 15 seconds.
ADCLEAN in gel form: Pour the required amount in the palm of your hand (3ml minimum) and rub for 30 seconds
What is the number of doses per 15.9 FL OZ bottle?
For ADCLEAN Gel, one dose with the pump corresponds to approximately 0.04 FL OZ Therefore, there are approximately 370-420 doses per 15.9 FL OZ bottle.
For ADCLEAN Spray, one does is roughly 0.02 FL OZ, thereby corresponding to 670 doses per bottle, however users generally put 2 doses on their hands per use.
Can Adclean be used on children?
Adclean Medical, our medical grade formulation, can be used on children's hands. One must ensure that the product is applied by an adult and that it is immediately stored in a safe place that is inaccessible to children.
Can I use ADCLEAN on surfaces other than my hands, such as keyboards, door handles, and stair railings?
Yes. ADCLEAN in liquid sprayable form is also designed to disinfect solid surfaces. Simply spray ADCLEAN twice onto the surface and allow the product to evaporate. For greater efficiency and wherever possible, use a clean paper towel and rub the object for several seconds.
Hoes does ADCLEAN follow the FDA and World Health Organization (WHO) recommendations?
The World Health Organization (WHO) developed internationally recognized and laboratory tested antiseptic formulations. ADCLEAN products were developed in accordance with WHO recommendations and are approved by the FDA. All Adclean products have strong antimicrobial power allowing rapid and effective disinfection of a wide range of microorganisms.
Where can I find the Adclean Products on the USFDA website?
Access the USFDA Website
Select type : NDC Code
Enter NDC Code 78335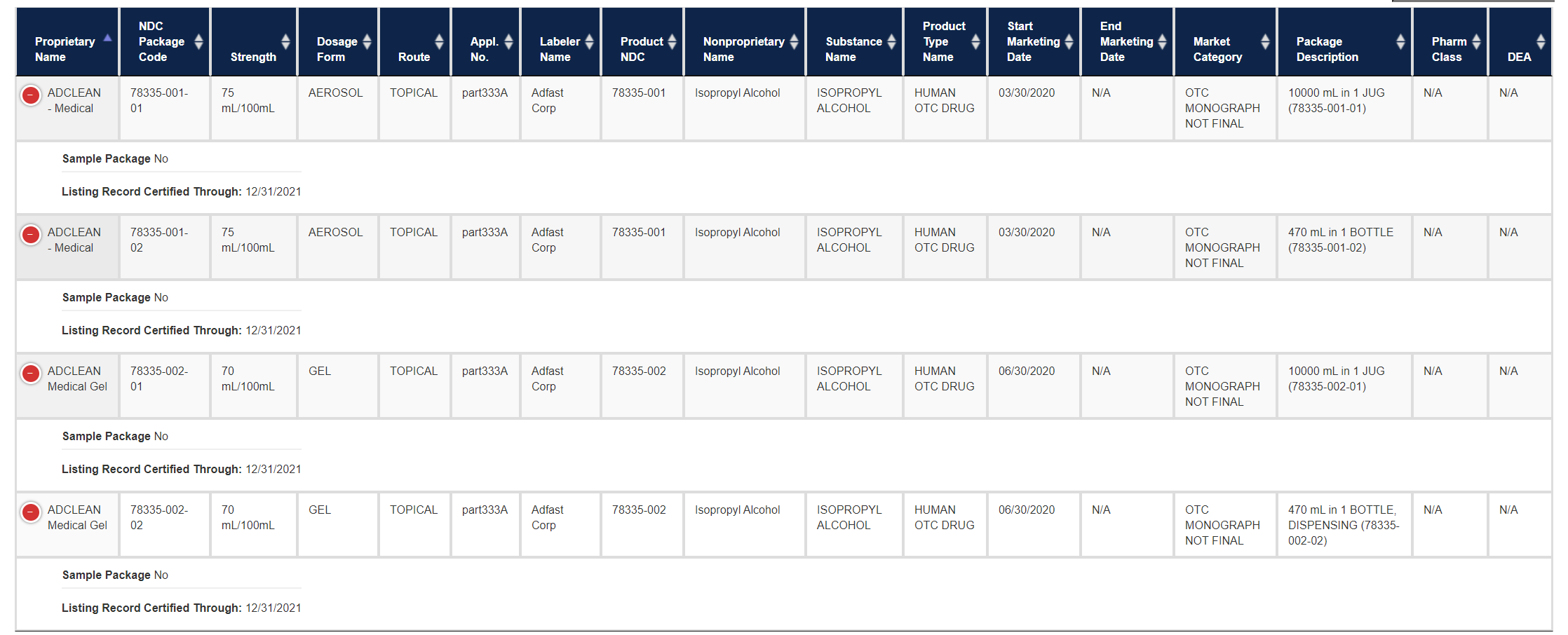 What is the chemical composition of ADCLEAN products?
ADCLEAN products are composed of the following:
An alcohol-> isopropanol / isopropyl alcohol (75%) -> antimicrobial agent for eliminating microorganisms.
Distilled / purified water -> slows evaporation of the solution, therefore increasing action time of the alcohol.
Glycerin -> plant-derived compound, used as a humectant (preserves moisture)
Hydrogen peroxide -> eliminates microbial spores that contaminate bulk solutions and containers.
Essential oil -> Optional, to provide a more pleasant odor
Does the gel formulation easily transfer from a 10L to a smaller pump bottle?
Absolutely. Adclean gel can be easily transferred from a 10L to a bottle.
Can the gel formulation be used in a hand sanitizer dispenser?
Absolutely. Our gel is sufficiently liquid and easily transferred from a hand dispenser.
Commercial disinfectants such as Purell smell good. Why do ADCLEAN products have a stronger odor?
Odorants and beautifying additives are generally added to commercial disinfectants in order to encourage customer acceptance. ADCLEAN products have a minimum of additives because our priority is above all to provide an effective and low-cost antiseptic. Therefore, the smell of alcohol, the active antiseptic ingredient, is not masked.
Is ADCLEAN effective against viruses?
ADCLEAN products kill bacteria and most viruses. However, no studies have shown the effectiveness of hand sanitizers for certain viruses such as hepatitis A, hepatitis B or HIV. In doubt, contact a professional healthcare organization.
Once ADCLEAN is applied to my hands, am I protected for a few hours?
No. Alcohol-based disinfectants do not form a long-lasting protective film on the hands because the alcohol evaporates. It is therefore important to reapply when a possibly contaminated surface has been touched.
Can I dilute Adclean Medical with a little water to extend its use?
ADCLEAN Medical is made up of 75% isopropanol. Adding water reduces the % of alcohol and thereby the product's antiseptic nature. It is therefore not advisable to add water.